Thanksgiving is a little more than a week away and we are busy dreaming up pretty little ways to decorate our table for the holiday.  The table is the first thing guests see when whey arrive at your celebration, so it is worth making a little extra effort to put together a display that will set the right tone.  As professional stagers, this is exactly the kind of thing Colorado Staging + Design loves to do!
But who has hundreds of dollars lying around to spend on decor this time of year?  The good news is that you don't have to spend a ton of money to create a beautiful tablescape.  We want to let you in on a little secret…our signature style hinges on the dichotomy between old and new, high and low.  We truly believe that the age and patina of "previously loved" items makes design real and relatable.  Read on to learn how this translates to setting the perfect Thanksgiving table on a budget.
1.)  Thrift Stores Are My Friend.
Thrifting is best done when you have a purpose in mind, as it is easy to get overwhelmed by the amount of inventory that is available in the store.  But if you have a singular focus (i.e. items for my Thanksgiving table) and an open  mind, you will be amazed at what treasures you can uncover.  We were shopping for a design project at two different thrift stores in Loveland yesterday (ARC and Goodwill) and were blown away by the things we uncovered.  China plates for $1.  A hammered brass bud vase for $2.  And an American made sterling silver pitcher for… get this… $0.49! In terms of setting a table here are some things to look for at the thrift shop:
Table Linens (table cloths and cloth napkins can be soaked in OxyClean and laundered)
Small collection of old vessels to become bud vases.  If you can't find enough matching items, metallic spray paint will turn them into a matched set.
Mix and match different pieces of vintage silverware to add character to your table.
Silver serving trays and bowls are available in abundance. Mix and match for a beautiful display.
Vintage salt and pepper shakers can add a fun element to your table (and having more than one set helps your guests during the meal too!)
2.)  I got it from my Mama.
If you are lucky enough to live near relatives who may have long-forgotten items in storage, consider asking if they would allow you to "shop" their inventory for your event.  We like to visit estate sales, and you would not believe the amount of beautiful things that most people have saved away and lovingly stored "for a special occasion".  Silverware, bowls, crystal… just stored in cabinets and waiting to be loved.  Borrowing these items for a few days comes with an added bonus; it is a great opportunity to connect with family members.  There is often a story to be shared behind special occasion items… and the opportunity to sit and learn a little more about a loved one's past is a gift to be treasured.
3.) Keep It Simple
Simple is Best!  Keep in mind that you don't want too much on the table. If every square inch is covered in decorative accessories,  you will be in for a hassle when you sit down to actually, ahem, EAT.  One plate on a placemat (or charger), a cloth napkin tied with twine, ribbon, or a pretty napkin ring, and a simple, elegant floral arrangement in the middle is all you need. Handwritten place cards are a nice touch too, if you have the time.  There are a lot of fun and creative ideas on Pinterest that can be inexpensively replicated.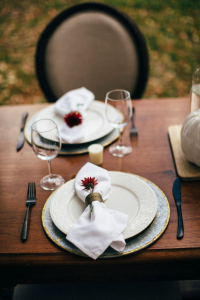 4.) Take it Outside.
In a pinch, you can probably find enough natural elements for your table (for free!) in your own back yard.  Pinecones, leaves, rocks, and evergreen branches are right outside and waiting for you to find a way to creatively display them!
Thank you for taking the time to check out our tips for staging the perfect Thanksgiving table.  Colorado Staging + Design wishes all of our customers and friends safe holiday travels and a time of connection with family and friends.
Happy decorating!